Posted by Best Aprons on 29th May 2014
Defining a concept is the foundation of starting a restaurant. While a major part of a restaurant's success is attributed to its uniqueness and exclusivity, sometimes it helps to look to other successful restaurants for inspiration. What better way to gain restaurant concept inspiration than looking to these celeb-owned hotspots in the limelight? We've rounded up a list of the top 10 celebrity restaurant concepts.
1. Ago - West Hollywood, CA

The brainchild and namesake of renowned chef Agostino Sciandri, this fine Italian dining trattoria is all about the atmosphere. Co-owned by Robert De Niro, the restaurant transports you from trendy West Hollywood to the Tuscan countryside. What we love about this restaurant is its impeccable attention to detail. From the surrounding indigenous Tuscan foliage, to the grapevines and bougainvilleas, you couldn't get a more accurate depiction of an authentic Italian trattoria. With its warm and romantic atmosphere and vintage wine selection, it's no wonder they have special rooms for its most elite clientele.
2. Beso - Hollywood, CA
Owned by the glamorous Eva Longoria, you wouldn't expect this restaurant to be anything less. Beso's concept is built on Latin/American fusion, an eclectic fine dining experience, and romance. Dark lighting sets the mood, and after dinner you can make your way up to the Estate Room with delicious cocktails where candle lantern-lit olive trees give you the feeling that you're on an outside patio under the stars.
3. Angels & Kings - Chicago, IL
Fall Out Boy's Pete Wentz founded this restaurant and bar known for its rock & roll vibe. Cocktails inspired by rock and celebrity mugshots lining the walls give it a classic punk attitude. Wentz himself will sometimes DJ and Sunday's are acoustic open mic night.
4. Cabo Wabo - Cabo San Lucas, Mexico
Founded by Van Halen's Sam Hagar, this casual dive bar is a world-renowned cantina classic. With a Van Halen song of the same name, it's no wonder the dive bar that doubles as a nightclub greatly values live music. It features a flip-flop and jeans dress code and offers delicious Mexican food and seafood. With multiple locations, this concept successfully translates in their Lake Tahoe and Las Vegas locations as well.
5. Doug E's Fresh Chicken & Waffles - Harlem, NYC
With its metal exterior, this soul food haven offers delicious chicken and waffles. Owner Doug E. Fresh is sometimes seen visiting his bright blue and chrome themed restaurant that caters mainly to take-out diners. Wth little seating and cash-only policy, this restaurant has a hole-in-the-wall feel that seems to never disappoint.
6. Five Leaves - Brooklyn, NY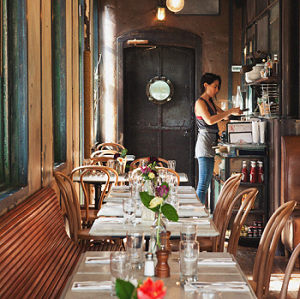 Actor Heath Ledger unfortunately didn't live to see his imagined restaurant become a reality, but it has since opened its doors to the public. This quaint restaurant features a nautical theme with homey Australian accents. It's American offerings don't fall flat with the locals as the cafe is always bustling. It caters to a younger crowd interested in casual dining.
7. The National Underground - Nashville, TN
This rockin' dive bar/musical club is owned by singer/songwriter Gavin DeGraw and his brother, Joey DeGraw. This club is equipped with a charcoal grill, producing mouth-watering burgers accompanied by American roots rock, pop and country music acts. Celebrity performances and appearances also give this tavern a hotspot appeal.
8. Nobu - Tribeca, NYC
Renowned chef Nobu Matsuhisa and Robert De Niro teamed up to create the flagship Nobu restaurant in NYC. Its decor is reminiscent of classic Japanese, with elements such as birch trees, wood floors, and river stones; the restaurant is worth experiencing for the atmosphere alone. Pair that with delectable Japanese fusion Sushi offerings and it's a perfect fine dining experience.
9. Soul Kitchen - Red Bank, NJ
This unconventional restaurant puts a spin on American dining. Owned by Jon Bon Jovi, this non-profit restaurant offers healthy, organic fare. The menu doesn't have any prices on it, just minimum donations or the option to volunteer for dining certificates. They encourage community seating as well as meeting new people and giving back to your community.
10. Tagine - Beverly Hills, CA
Owned by Ryan Gosling, Tagine offers an intimate setting with beautiful decor. Jazz music plays softly in the background to flickering lights, while banquettes line the walls, and portraits by photographer Dan Winters hang about the restaurant. It's a unique fine dining experience with a Moroccan fusion cuisine in a beautiful setting.
Whether you're in the process of developing your restaurant concept or looking to revamp your current restaurant, Best Aprons has a great selection of chef aprons. Stock your restaurant with quality chef aprons at www.bestaprons.com today!