Posted by Best Aprons on 17th Aug 2014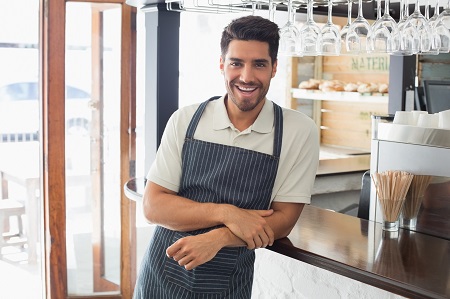 Traditionally, the apron has been associated with women, as well as young girls looking to emulate their moms. Maybe you yourself imagine all of the various activities that women and girls engage in where aprons are handy, such as working in the kitchen or garden. Of course, these attitudes have long since become outdated due to the dramatic changes in gender role conceptions in the last century and even the last two decades. However the association of the apron with women stubbornly persists. Men and boys don't have to miss out! There are a variety of quality men's aprons that are great for a wealth of different activities.
Cooking
Cooking has become a passionate pastime of both sexes, and when you're getting down and dirty with the culinary arts, an apron is absolutely essential. Men can benefit from the protection of an apron when working with different kinds of food ingredients, and there is always that inevitable spill that an apron can protect from as well. In addition, men's aprons are great for barbecuing. All of those cooking juices and sauces can ruin a set of clothes pretty quickly if the cook isn't careful! There are also plenty of great aprons available for boys who want to help in the kitchen.
Both men and women also feature prominently in professional restaurants and other establishments in the service industry, and a durable apron makes for an excellent complement to a traditional chef's uniform to protect from more egregious spills. Other common uses of aprons in the service industry are for baristas and bartenders.
Gardening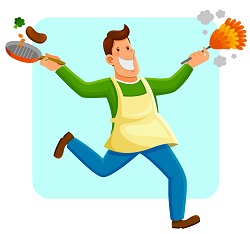 Plenty of men enjoy working out in the garden as well, and it is all too easy to get dirt and plant matter on a good set of clothes. When it comes to working in the garden, men's aprons are perfect for protecting against dirt in the great outdoors. After gardening, an apron can be quickly thrown in the wash so that it's ready to go next time. As with working in the kitchen, boys can also benefit from an apron when working or playing outside.
Arts and Crafts
Boys enjoy getting creative with their arts and crafts just as much as girls, and as you know this can often get pretty messy. Children in general seem to be oblivious to the hassle of cleaning up a big mess, and usually end up getting more paint, putty, and food coloring on themselves than their own projects! Boys can benefit from an apron to protect their clothes from potential messes. Dads helping out their little one can also benefit from men's aprons to protect their own clothes.
Shop Today
Need an apron for your son? Or do you need an apron for yourself to protect your clothes when you work in the kitchen or garden? Or perhaps you need to outfit your staff for your restaurant, bar, or coffee shop? Best Aprons has a wide selection of men's aprons and boys' aprons in many different styles and colors for you to choose from. Shop for your apron today!