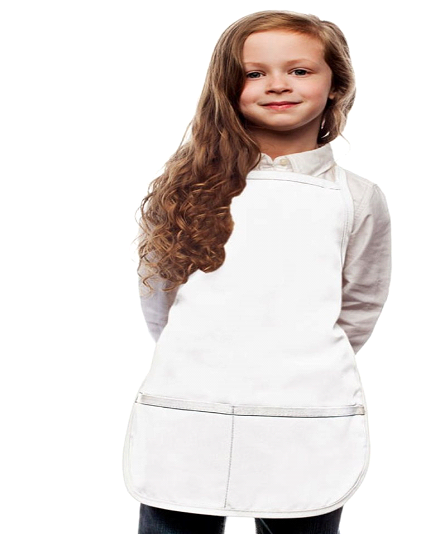 A Kids White Apron is an essential accessory for a fun, messy time. They can be used for children's birthday parties, where a bunch of children get together to commandeer a kitchen and bake their own cake. Or maybe a pizza. Sauce, frosting—they get everywhere! But with aprons on, the children are protected. Even in a cooking class, where the kids have direction from an adult, they are still in danger of spilling batter all over themselves.
In fact, a kids white apron is an important garment for all sorts of lovely children's activities. Take arts-and-crafts, for example. You set up the kids in a small, paint-smeared studio, before their own easels, and give them acrylics. Maybe each even gets their own palette. In their own aprons, these kids can create masterpieces without you having to worry about the mess. Say goodbye to washing paint out of their polos.
These aprons can also be used for gardening. Whether at a farm or in your own backyard, these aprons allow kids to get down and dirty with the earth, planting flowers and fruits, without staining their clothes. No rose looks better that one planted in your own backyard, by your own child.
At Best Aprons, we have a bevy of kid's aprons that are tailor-made for culinary exploration. From toasted olives to coq au vin, our kids white apron is the choice garment for the aspiring chef. Made from a durable 65%-35% polyester cotton twill blend, our aprons are treated with a stain repellent and finished with soil and wrinkle resistant applications. Repeat washings revive this apron, restoring the fabric to a state of complete kitchen-readiness, even after a child spills an entire bowl of muffin batter on one.
Our kids white apron is provided in standard sizes for kids aged three to seven. These measure twenty inches from the chest down and fifteen inches side-to-side. We also sell an extra-large size for children aged eight to twelve, which measures twenty-four inches from the chest down and sixteen inches side-to-side. Our child aprons are unisex styled so that all children can participate in the fun of cooking.
These aprons come in two styles: bib (with or without pockets) and cobbler.
A bib apron is your standard chef's apron - a long sheet of durable fabric that drapes down the wearer's front, affixed via a loop of fabric around the neck. These are the aprons you'll see worn in most restaurants, from three Michelin star stalwarts like Per Se and Le Bernardin, all the way down to your corner sandwich joint. Competitively priced at only $6.50 each, these aprons are a bargain. They are the perfect impetus for a child's culinary journey, because, as we all know, the first step toward becoming a chef is looking like a chef. So get your Georges Auguste Escoffier (or Julia Child, or Gordon Ramsay) on, and pick up a bib apron today.
A cobbler apron is similar to a smock. It sheathes the wearer's torso and ties at the sides. This style of apron comes with two pockets in which a child can keep all sorts of kitchen utensils or art supplies. The cobbler apron is a versatile piece of clothing, great for the kitchen, the art class, or the garden. In a way, it has a greater reach than the bib apron, given that it affords greater mobility, and protects the wearers back. The bib is almost exclusively seen indoors, but the cobbler is the explorer's apron. It can go anywhere.
In addition to kids white aprons, our aprons also come in nineteen other colors, from black to hot pink, teal green, and khaki. Choices can be made based on deference to a child's favorite color.
Best Aprons also sells a kid's size traditional chef's hat, made of the same twill blend as the aprons, in white and pink.
All of Best Aprons' wares are made in the USA. We offer free shipping on orders of over $25. Most orders are shipped within a day of being placed, and some are even shipped same-day. We have four warehouses within the U.S., and will always source your order to the one closest to your delivery address. If your needs happen to change at any point, we will gladly replace or exchange any unused item with another size, color or style within sixty days of your original purchase date, for no extra charge. We do accept returns if you are not completely satisfied with your order.
All our aprons are also customizable. We offer embroidery services, which run between $2.75 and $12.50 depending on the size of the order. Our embroidery comes in hundreds of thread color options, and our machine may use as many as sixteen needles to sew your design into the fabric. In addition, our embroidery is very durable and will withstand repeated washings. We also offer screen-printing services. Screen-printing is less durable than embroidery but is the premier choice for customizing garments made with lighter fabrics, such as t-shirts, and other promotional materials. At Best Aprons, there are no hidden charges for digitization, set-up, or sew-out.