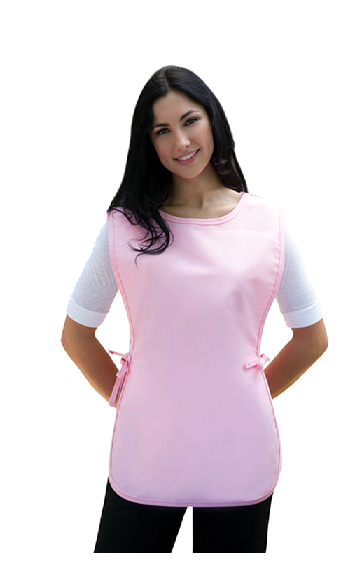 When aprons debuted in the 13th century, they were little more than scraps of fabric sewn together by peasants to protect their modest outfits from mud, grease, soot, and other hazards of their dirty trades. But, as with every piece of clothing that begins in utility, eventually the rich modified it into an aesthetic statement. In the 16th century, the nobility began to wear ornate aprons over their gowns, embroidered with silken images of natural phenomena - grapes and orchids and roosters. Reportedly, one of these aprons could cost over $30,000.
All this happened, however, below the waist.
It was only in the 18th century that aprons became a full-body affair. The pinner apron became a popular piece among women working as cooks, kitchen maids, and housekeepers. This chaste piece of muslin fabric is the sort of thing you see on women in period films, pinned to the shoulders of their dresses. The advent of the civil war brought straps to the pinner, and the modern apron was born.
80 years later, in the 1940s, fashion once again encroached upon the apron. As part of the suburban, middle-class boom in the U.S.A., fashion companies marketed the apron as essential to the housewife's wardrobe.
Enter the modern smock apron, otherwise known as the cobbler's apron. The smock apron provides protection to both the back and front, tying on both sides of the waist. It originally became popular in the 1950s, used by housewives for its utility. The lack of drape was useful for scrubbing floors, allowing for increased mobility.
Best Aprons sells a smock apron woven from polyester and cotton, perfectly suited to restaurant work, use in a hospital setting, as a banquet or catering apron, or arts-and-crafts use. With amazing stain and wrinkle repellent properties, this apron will not fade with washing, and its pockets will keep their shape. This apron fits both men and women and comes in sizes from small to XXL. Both sides of the apron have pockets, and a matching set of ten-inch ties at the sides keeps the apron securely closed. Our aprons are available in two styles and twenty-four different colors, from white to orange to teal green.
The real draw of a smock apron, as opposed to a waist apron or a bib apron, is the manner in which it hugs to the body of its wearer. This apron operates much like a heavy-duty shirt and is easily adapted into a recognizable uniform. The full-body protection that it provides is unique within the apron world and makes the apron highly adaptable. At Best Aprons, you can purchase this apron either with two front pockets or without. The front pocket allows the apron's wearer to easily hold and access the tools of their trade, whether that be a pad and pencil, a bevy of art supplies, or a trowel and brush.
Whether you are an individual looking to purchase a high-quality apron for yourself, or a business owner looking for bulk, Best Aprons is the right company for you. Our great-looking, professional aprons come in a wide variety of sizes and cuts, which can be customized to accord with any uniform. We offer a highly customizable embroidery service, using as many as sixteen needles to sew your company's design into the fabric. With over 100 color options, our embroidery service is second to none. Best of all, our straightforward pricing excludes any hidden fees. Our competitors often charge a set-up fee, a sew-out fee, a digitizing fee, but at Best Aprons, we charge a flat rate that scales on the basis of your order size. The minimum order is six pieces; however, our average embroidery order is for around 150. We also offer a screen-printing service.
Products at Best Aprons will stand up to the toughest jobs. Made in the U.S.A., you can be sure that our aprons are of the highest quality. We offer free shipping on orders of over $25. Most orders are shipped within a day of being placed, and some are even shipped same-day. We have four warehouses within the U.S., and will always source your order to the one closest to your delivery address. If your needs happen to change at any point, we will gladly replace or exchange any unused item with another size, color or style within sixty days of your original purchase date, for no extra charge. We do accept returns if you are not completely satisfied with your order.
We also offer coupon codes and shipping discounts. Check out our most recent offers on our website, under Coupon Codes/Discounts. If you need a large order of aprons, you can request a bulk order price quote, or open a wholesale account for special pricing.
Shop our selection of top-quality American-made aprons today.