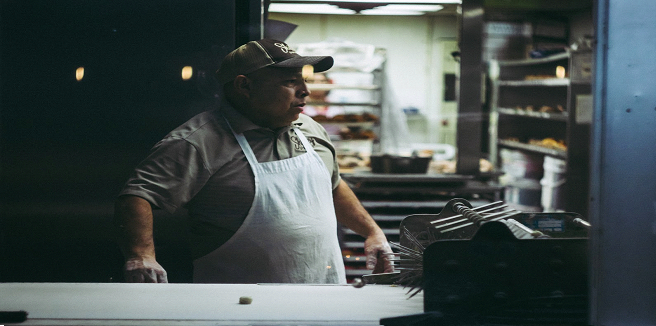 At Best Aprons, our goal is simple: to provide high-quality aprons to businesses of all sizes. We take our mission seriously and work hard to live up to the promise of our name. Here you'll find only the best aprons available on the market, including children's sizes and plus size aprons that match seamlessly with our standard sizes, allowing you to create a unified service image. Read on to learn about all of the different cuts, styles, and colors we have available here and choose the best aprons to suit your business's style and personality.
First, let's begin with the most important elements of any apron: durability and sanitation. A good apron needs to stand up to daily messes and protect the employee that wears it. All of our aprons are made of our high-quality polyester cotton blend fabric, which is both durable and soil-resistant. These restaurant quality aprons are made to withstand the frequent machine washings of the hospitality and service industry. Our personalized embroidery options are also designed to withstand repeated washings, so your aprons will continue to be pristine and ready to perform as good as new every day.
Next comes the fit. All of our aprons are offered in a unisex style, making it easy to outfit your entire team without having to order specialized cuts. In general, one size fits most. Our standard sized aprons are up to 28" wide and include extra-long waist ties made of the same durable fabric, which extend 34" on each side. Should these standard-sized aprons not be suited to your needs, we also offer plus size aprons, which can be found in our Big and Tall category. These extra-large sizes feature the same extra-long waist ties as our standard sized aprons. And for family businesses or home use, we also offer restaurant-quality children's aprons, suitable for children ages 3 to 7, with extra-large sizes suitable for children ages 8 to 12. The waist ties of these aprons extend 18" on either side.
Third on this list of priorities is style and utility. At Best Aprons, we carry a wide selection of cuts and styles to accommodate the full range of businesses we serve. Browse through our Shop By Style tab and you'll find over 10 different categories of different apron cuts. Each category contains multiple size options and a range of styles, including different pocket options depending on your needs.
In order to choose the best apron style for your business, you need to first decide on the length of the cut. We offer three different categories of length: short, mid-length, and full length. Each of these cuts is available in waist apron and bib apron styles, so it is best to decide how much leg coverage your employees will require. If any size affords the appropriate leg coverage, then consider the atmosphere you wish to present to your clientele. When in doubt, a mid-length apron makes an excellent default style. Once you've settled that, determine whether or not your employees will be at risk of spills above the waist, as this will allow you to choose between waist apron and bib apron styles.
Regardless of style, all of our aprons are offered in over 20 different colors. You'll find classic blacks, of course, as well as a full range of colorful shades including pinks, greens, oranges, and blues. These colors are our standard options, which means they are consistent across all of our apron options. This means that should you choose to order multiple different cuts, you can still create uniformity through color. Our uniform vests are also offered in these same colors to allow for easy, seamless matching.
Once you've found the right cut and color, you may want to personalize your aprons to better represent your company. When dealing with other suppliers, you would normally have to take your freshly ordered aprons to a separate embroidery service, or else pay multiple set-up and service fees, but that's not the case here. At Best Aprons, we'll happily do your logo embroidery on all your aprons, cobblers, and vests for one simple, straight forward price, with no hidden or secondary processing fees. By sewing your company logo into the fabric of your aprons and vests, we ensure it will survive multiple washes and last the full life of the garments. Your beautiful logo stays crisp and clear, proudly on display.
Whether you're running a cross country corporation or a small one shop bistro, we are happy to serve you. You'll never see a minimum order requirement here, so you can stock your business with just the right amount of aprons to outfit all your employees. Plus, with a comprehensive range of sizes, including plus size aprons, and free shipping offered to all orders over $25, we make it easy to get exactly what you need, nothing more, nothing less.