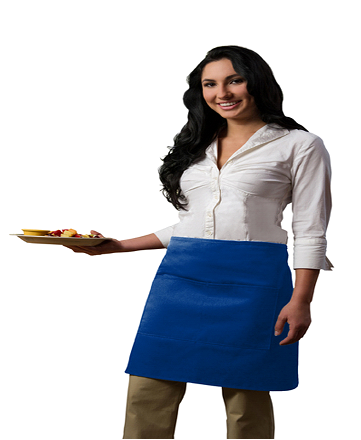 Whether it's a small business, a branch of a chain, or an award-winning five-star restaurant, one thing all restaurants have in common is their need for high-quality aprons. High-quality aprons present uniformity and professionalism to the customers and make the jobs of servers and cooks more efficient. A Best Apron waist apron with pockets provides employees with strategic carrying capacity, allowing them to work hands-free and still have their tools immediately at the ready. We offer a full range of aprons in different sizes and colors, as well as customization options to perfect your customer service presentation and protect your workers from everyday spills and mishaps.
At Best Aprons, all of our products are American made and of the utmost quality. Our waist aprons are made of a strong wrinkle-resistant blend fabric that is 65% polyester and 35% cotton. These restaurant quality aprons are offered in more than 20 different colors and stand up well to repeated washing. They are, of course, spill, stain, and dirt resistant, and offered in a full range of sizes including extra large. There is no minimum order requirement and we keep a fully stocked inventory, so you can order as many or as few aprons as you need and have them shipped out today! We even offer free shipping on orders over $25!
If you are specifically in need of a waist apron with pockets, we offer three different style options. Short waist aprons fall between 12 and 15 inches in length, usually ending about midway down the thigh. You can choose between two or three pockets for these unisex styled waist aprons for deep storage capacity. They're perfect for holding order pads in a fast paced kitchen environment. Choose between rounded and square bottom corners to fully capture the perfect look and feel of your business. Color options range from classic neutrals like black and white to energetic and friendly colors like pink, Kelly green, and yellow.
The second size waist apron with pockets we offer is our mid-length waist aprons, a happy medium style that is versatile as well as functional. These aprons fall closer to the knee, measuring out to 19 inches in length. These aprons come standard with two deep pockets that make waiting tables a breeze. The style is just the sort you'd expect to see in a chic bistro – classy and inviting.
Our third restaurant quality waist apron with pockets is the full-length style. These server aprons go all the way below the knee, with a full 32 inches in length. They are available with either two deep patch pockets at the sides, or one large pocket on the right and a built-in pencil divide for easy storage. These full-length aprons provide a sleek silhouette and create an image of sophistication that raises the atmosphere of your business. Your customers will trust they are in capable hands from the moment your smartly dressed servers introduce themselves.
If you are looking to further dress up your restaurant uniforms, be sure to browse through our accessories and customization services as well. We even offer classy uniform vests to perfectly match the color of your servers' aprons and create unity in your uniform. These uniform vests come in all sizes from small to 5XL, perfect to outfit the entire staff, and feature a full range of styles. Choose from styles with and without buttons, with one, two, or no pockets to go with your new waist aprons. Our unisex style vests are made of the same polyester and cotton blend as our aprons and are just as durable and soil resistant, making them the perfect accent in a busy restaurant setting.
For as little as $2.75 per logo, we will happily embroider your aprons and vests to personalize them to your business. Unlike our competitors, we at Best Aprons offer Straight Forward Pricing. There are no hidden servicing or digitizing fees. Everything is included free in your embroidery order. We have hundreds of color options for the threads that will go into your logo embroidery, and each embroidery package includes up to four colors. Additional colors are just $0.35 per logo. Unlike screen printing, embroidered logos are stitched into the fabric of your vests and aprons, making them extremely durable even after several washes. You'll never have to worry about losing your logo, because they are built to last for the garment's entire lifespan!
For promotional items, t-shirts, and items that can't be stitched into with a needle, we do still offer Silk Screen Printing as well. If you have any questions about customizing your uniform garments or other items, please don't hesitate to contact us here. We're more than happy to accommodate you and help ensure you get the best products for your business's needs.