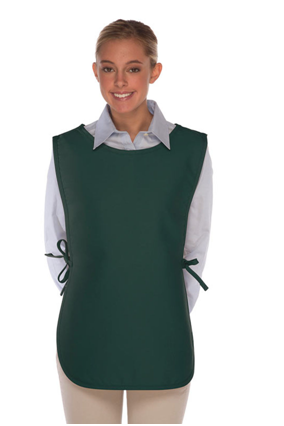 Cobbler aprons with pockets entered into America's cultural consciousness in the mid-50s, along with jello molds and pastel blocking. Freed from the necessities of wartime labor, with an economy on the boom, women were looking for the most efficient, wearable, and durable apron around. What they found were cobbler aprons with pockets, which allowed for increased mobility while scrubbing floors or getting into hard to reach corners, while also making it easier to carry tools with them like squirt bottles and dusters.
Now, cobbler aprons are used in venues far more various than just the kitchen. They are a staple of the hospitality industry, found in senior living facilities, hospitals, and cafeterias across the land. Walk into any hospitality establishment, and it's more likely than not that you'll see an employee with a cobbler apron on. The reason is simple. The things are just so dang useful. Unlike bib or waist aprons, the cobbler apron hugs to the torso, mimicking the fit and drape of a shirt or blouse. Thus, it makes for a great uniform. At the same time, it covers the wearer's back, making it far more useful for work that occurs in a potential 360 degrees of mess. A better analog than a bib apron would be to a chef's whites - a garment designed to protect its wearer from any type of spill, an all-purpose shield.
At Best Aprons, you'll find the best cobbler aprons with pockets around. These aprons are made in the USA from a durable 65% polyester, 35% cotton twill blend. Cotton for breathability and polyester for durability. We, at Best Aprons, know how important performance is for an apron, and our soil and wrinkle-resistant finish is applied with specifically that in mind. Our garments are designed to stand up to the sometimes punishing sartorial conditions of rest stops and retirement homes. They also serve well when working on garden projects, in arts-and-crafts, or while potting clay. Each of our cobbler aprons comes with two pockets, nine inches deep and ten inches wide - perfect for holding towels, paintbrushes, sponges, clay, and other assorted tools.
Our cobbler aprons come in four sizes: small, regular, X-large, and XX-large. The height of the small apron is twenty-seven inches and the width is eighteen inches, whereas the height of the regular apron is twenty-nine inches and the width is twenty inches. The height of the X-large apron is thirty-one inches and the width is twenty-two inches. Finally, the height of the XX-large apron is thirty-three inches and the width is twenty-four inches, and all come with long side waist ties that are the same color and fabric as the rest of the apron.
Our cobbler aprons come in twenty-four different colors. From black to blue, teal green, pink and more. At Best Aprons, we have cobblers that fit into any color scheme. We also offer a highly customizable embroidery service, using as many as sixteen needles to sew your company's design into the fabric. With over 100 color options, our embroidery service is the gold standard of the apron business. Best of all, our straightforward pricing excludes any hidden fees. Our competitors often charge a set-up fee, a sew-out fee, and a digitizing fee, but at Best Aprons, we charge a flat rate that scales on the basis of your order size with a minimum order of six pieces. Our average embroidery order, however, is for around 150. We also offer a screen-printing service.
Whether you are an individual looking to purchase a high-quality apron for yourself or a business owner looking for bulk, Best Aprons is the right company for you. Our great-looking, professional aprons come in a wide variety of sizes and cuts, including waist, bistro, and bib, all of which can be customized to accord with any uniform. In addition to cobbler aprons with pockets, we also sell a number of accessories, including vests and chef's hats, which you can buy to add an extra bit of flair to your workforce.
We offer free shipping on orders of over $25. Most orders are shipped within a day of being placed, and some are even shipped same-day. We have four warehouses within the US, and will always source your order to the one closest to your delivery address. If your needs happen to change at any point, we will gladly replace or exchange any unused item with another size, color or style within sixty days of your original purchase date, for no extra charge. We do accept returns if you are not completely satisfied with your order.
We also offer coupon codes and shipping discounts. Check out our most recent offers on our website, under Coupon Codes/Discounts. If you need a large order of aprons, you can request a bulk order price quote, or open a wholesale account for special pricing.